Best Time To Buy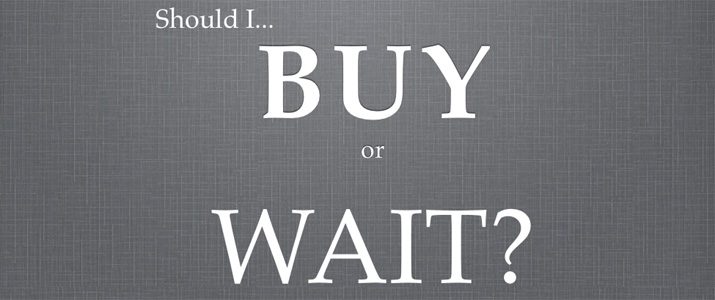 Looking to update your home with some new appliances? Want to spruce up your bedroom with a new comforter? There is definitely a best time to buy.
January
After the rush of the holiday season, stores must clear the shelves to make space for spring items that are arriving. And big-ticket items that sold well during the winter holidays are often off-season in January. Take advantage of finite space and shop for:
Toys — leftovers from the holidays
Winter clothes — making room for spring fashions
Furniture — new styles ship in February
Bedding and towels — white sales generally happen around the presidential birthdays celebrated this month
February
Video games — new releases came out for the holidays; by now they're old news, and ready to go on sale
Boats — new models come out soon and dealers need to clear their stock
TVs — the Super Bowl is coming, and electronics dealers want to move some older inventory
Cameras — again, new models are arriving and the old ones should be available at a deep discount
March
Frozen foods — it's National Frozen Food Month! Expect sales and coupons galore
Luggage — it's not the summer vacation tizzy, nor is it cruise time or even spring break — it's off season everywhere!
April
Vacuum cleaners — new models come out in June
Cruises — it's not a popular time to go, so deep discounts can be found
Running/sports shoes — sales and coupons abound as sports stores take aim at serious runners
May
Refrigerators — new models are released in May
Mattress sets — as with refrigerators, new models are coming out and the old must go
June
Think Father's Day and beach bodies.
Tools and hardware — they go on sale in anticipation of Father's Day
Gym memberships and home gym equipment — the New Year's resolution people have finally gotten around to cancelling their memberships and true fitness buffs are outside
July
Paint — because who paints when it's this hot?
Computers — get ready for back-to-school savings
August
As we move from summer to fall, families prepare to send the kids back to school. Just like in January, stores must make space for the next season's items.
Back-to-school supplies — yep, they really are a better deal right before school starts
Swimsuits and summer fashions — fall fashions are already shipping
Outdoor toys — we're talking trampolines, swing sets and the like
September
New models of bikes, big appliances, and cars are flooding into stores, and the old styles are deeply discounted.
Outdoor furniture — stores need space to move in holiday items
October
Air conditioners — the demand for repairs and installs slows dramatically, to your advantage
Jeans — jeans generally get a discount in October
Toys — holiday sales start now; if you can't stand the crowds, shop early
November
Candy — post-Halloween sales are great (if you don't mind the orange-and-black wrappers)
Electronics — Black Friday and Cyber Monday: 'nuff said
Christmas trees — buy before the rush starts December 1
December
TVs — probably even better than the February sales, Black Friday and Cyber Monday are TV-shopping dream dates
Champagne — after flat sales the rest of the year, suddenly competition turns fierce, to your advantage!
At all times of the year
Fruits and vegetables — make sure you know what's in season and when, and buy during those times. They'll taste better and they'll cost less too!
Opposites are ideal — pools and air conditioners in November, snow blowers in summer: this is when you get the deals.
Tags:
Best Time To Buy