Technology Ideas for Your Lawn and Garden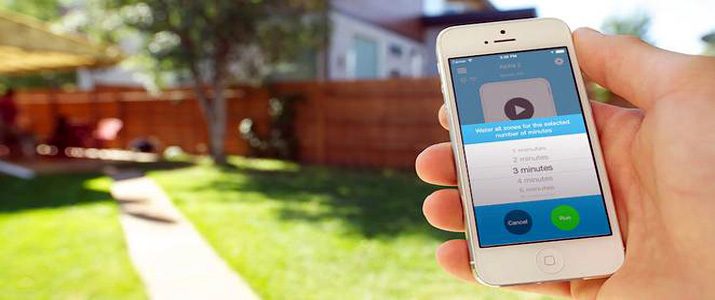 Technology Ideas for Your Lawn and Garden
Summer is right around the corner. Around the country, homeowners will be turning on the air conditioning and begin working in their yards. As technology continues to evolve, we're regularly presented with new opportunities to create efficiencies in our ever-demanding lives. Technology is not only playing a role inside our homes, it's also helping us outdoors.
One of the challenges for homeowners is wading through what seems to be a never ending supply of new technology products and services. Below are several new technology ideas for your lawn and garden to consider.
Rachio Smart Sprinkler Controller
Rachio can automatically create a watering schedule based on weather, sprinkler type, and growing conditions, while the mobile app gives you access to your sprinkler system from anywhere.
• No more watering in the rain. Adjusts for the weather, watering only when needed, and prevents run off with cycle and soak.
• Stop guessing. Start saving. Understand your yard in new ways. Rachio adjusts to the specifics of your yard to keep plants healthy.
• Enjoy new control. Control your sprinklers from anywhere via the Rachio app, track watering and precipitation, even view reports on your yard's health.
Edyn Garden Sensor
Edyn keeps you connected to your garden, so you always know precisely what's needed to keep your plants healthy. Plant the solar-powered Garden Sensor in your soil to continuously monitor environmental conditions in your garden. It connects to your Wi-Fi network to send you valuable insights through the corresponding Edyn app.
• Continuous monitoring. Edyn tracks light, humidity, temperature, soil nutrition and moisture.
• Real-time guidance. Get tailored tips and notifications based on your garden's conditions and the weather forecast.
• Garden diagnostic. Edyn analyzes your garden to discover which plants best match its conditions and climate.
• Plant database. Discover new plants with Edyn's database of over 5,000 varieties.
• Wi-Fi connected. Monitor your garden from anywhere.
Netatmo Personal Weather Station
Plan your outdoor activities, take care of your garden. on't be taken by surprise again! You have all the information you need to plan your outdoor activities based on the weather. Receive an alert on your smartphone when it rains in your garden. And water your plants when they need it. The Netatmo Weather Station's Outdoor Module gives you precise readings of the outdoor temperature, relative humidity, air quality and barometric pressure on your doorstep.
The unique, made for iPhone and Android personal Weather Station, with air quality measurements, to monitor and track both your indoor and outdoor environments. Besides the traditional measurements – such as T°, humidity, etc… – Netatmo brings the Personal Weather Station to the next level thanks to its exclusive CO2 and Noise sensors. All of your data is recorded online and made permanently accessible to you, on your smartphone, tablet or PC
Solar-Powered UV Bug Zapper & LED Garden Lamp
Say goodbye to those flies and mosquitoes while you camp outdoors with the help of this Solar-Powered UV Bug Zapper & LED Garden Lamp. It can attract and entrap flies, mosquitoes and other flying insects thus keeping your outdoor camping experience free from the annoying "buzz". This lamp consists of 8 bright LED bulbs which can easily light up a garden, patio or even a walkway. The integrated solar panel will power up zapper from the sun and helps you save energy that way. Staying outdoors post sundown wouldn't be that difficult anymore.
Hopefully, these products will make your summer more enjoyable and more efficient so you can spend your time with friends and family. If you have any great new technology products, I'd love to hear from you.
Tags:
Lawn and Garden
,
Technology Ideas